I Need To…
Automate Routine Tasks
With VanDyke Software, you have a variety of options to choose from when you need to automate routine tasks and processes.
If you want a small profile application that you can put in batch files, or schedule through the Windows scheduler or other third party scheduler, the VanDyke ClientPack will suit your needs. With the VanDyke ClientPack command-line utilities, you can set up commands in batch files that will be ready to run every time you need to roll out a new system or add a new user.
If you need interactive scripting, use SecureCRT®, with support for VBScript, JScript, and PerlScript. SecureCRT also gives you options for grouping a set of commands into buttons and mapped keys, and allows commands to be sent to all open tabs from the command (chat) window. A script recorder automatically creates a VBScript based on keystrokes, including function keys. Writing protocol and emulation independent scripts is easier than ever with the ability to send special keys such as function keys, control keys, and other special characters.
VanDyke Software helps you achieve the right balance between strong security and easy access to the network from anywhere... at any time. Take the next step right now:
Download evaluation copies of VanDyke Software products.
Read our Secure Shell white papers.
Contact us for assistance in designing the right solution for your organization.
---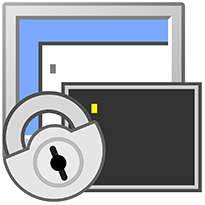 SecureCRT
SecureCRT is an extremely customizable terminal emulator with support for Secure Shell (SSH1 and SSH2) as well as Telnet, Telnet/TLS, Rlogin, serial, and TAPI protocols. SecureCRT is ideal for connecting to remote systems running Windows, UNIX, and VMS.
---
VanDyke ClientPack
The VanDyke ClientPack is a set of command-line utilities for securely automating your routine file transfer, shell, and public-key administration tasks on a variety of Windows, Linux, and UNIX platforms. Secure automation increases compliance with security policies and practices.