SecureCRT® 5.0 Tab Options User Interface
SecureCRT 5.0 introduces a new dialog for tab options. You can now set the status indicator colors for Connected, Disconnected, and New Input states, control the width of the status indicators, or just turn them off.
Tab behavior has also been augmented. In the new dialog window, you can define what happens when you double-click on the tab, and select an option to prompt to confirm when closing multiple tabs. There are also new built-in ALT+1, ALT+2 … ALT+0 keyboard shortcuts to navigate between up to ten tabs. If you prefer a different key combination, you can map this functionality to different keys.
Below is a screen shot of the new Tabs dialog. You can try out this new user interface by downloading the latest version of SecureCRT.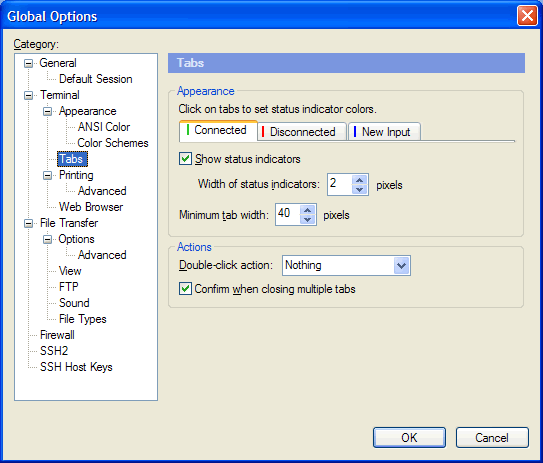 Read more about the new features in SecureCRT.