Setting user and group virtual root permissions for VShell® 3.8 or later for Windows
Starting with version 3.8, VShell for Windows increases control over user access with the ability to set specific file operation permissions on virtual roots folders for individual users and groups. VShell's virtual root access permissions cannot allow access that is disallowed by NTFS permissions. However, these virtual root access permissions can be used to further restrict access if NTFS permissions allow a broader spectrum of access than that desired for VShell connections.
The system administrator can allow or deny file operations (uploads, downloads, delete) and folder operations (list, create, delete). Permissions can be set on a per user/group, per virtual root basis.
To configure this functionality, open the VShell Control Panel and select the Virtual Roots options page. You can either add a new virtual root or edit an existing root (this example shows how to add a new virtual root).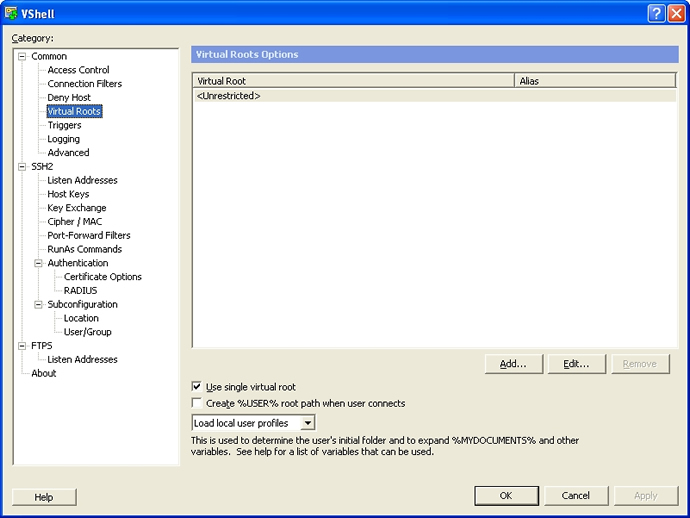 Select the Add button and enter the virtual root path and alias name. Next, add a new user or group by pressing the Add Windows User/Group button, or if you are using the VShell internal user database, the Add User From Database button.
Once you have added a user or group, set the specific file and folder operations that will be allowed or denied for that user or group. By default, all file and folder operations are allowed. To deny an operation, uncheck the box next it. For example, to only allow a user to upload files and folders to a virtual root, leave the Write option under Files selected, and the List and Create options under Directories selected. The List option allows the user to see the files that have been uploaded to the root.