Have you got a VShell® story to tell?
Visit our customer section to read how other IT professional use VShell and other VanDyke Secure Shell solutions to integrate security into remote access, file transfer, and data communications.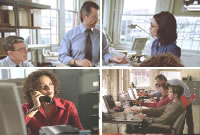 We're currently developing stories about how VanDyke Software customers are solving real business problems with VShell server. If you or your organization has a great story you'd be willing to share with other VShell users, please complete our brief questionnaire. If you prefer, you may contact our public relations team by sending email to .
Three Fast Ways to Learn More About VShell Server For Windows and UNIX
Tell me more. Email us your questions about putting VShell to work for your organization.
Try it today! Download a free 30-day evaluation copy of VShell for Windows or UNIX.
Talk to us. Let us help define the right VShell server solution for your company.