Secure File Transfer with the VShell® Server
Electronic data delivery is replacing paper-based mail at an ever-accelerating rate. Use VShell as the hub of a file sharing infrastructure to connect remote offices, partners and customers, with flexible user access control to set appropriate system access.
Simple File Transfer Solutions with Strong Security
SFTP transfers with the VShell server and SecureFX client use a single, secure channel for data transfer, protecting user data and files. SFTP operates as a subsystem, integrated with Secure Shell. For system administration, two-factor public-key authentication methods increase protection of privileged accounts.
File Transfer Protocols
An ideal use of SFTP is to set up VShell on a server outside the firewall or router accessible by remote users or partners (sometimes referred to as a secure extranet or DMZ). Typical uses include:
Uploading documents, spreadsheets, and other files
Making an archive of data files accessible for download
Providing a secure access point for remote administration tasks.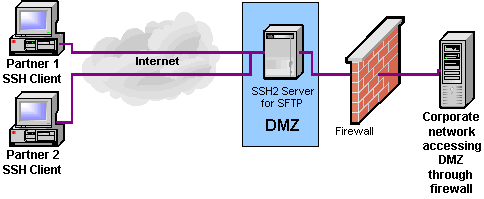 Flexible user access control
Configure multiple file transfer solutions for technical, nontechnical, internal and external users using VShell's powerful access control infrastructure.
Limit access to file system by user or group
Multiple virtual root directories allow each user or group to have a specific, limited file system entry point
VShell RunAs control panel allows admin to configure a command requiring a higher privilege level to allow user actions like a backup - without granting root-level access privileges
Option to store file transfer users in a VShell database to keep Windows account overhead low
Monitoring and reporting
Logging - W3C logging allows log analysis and reporting
Event logging
VShell Facilitates Federal Standards Compliance
VShell secure authentication and data encryption assure privacy for sensitive data in transit, while logging facilities provide the required mechanisms for tracking and documentation.
Federal FIPS 140-2 encryption standards
Gramm Leach Bliley Act financial privacy regulations
Sarbanes Oxley (SOX) financial disclosure
HIPAA health data privacy
Three Fast Ways to Learn More About VShell Server For Windows, Linux, and Mac
Tell me more. Email us your questions about putting VShell to work for your organization.
Try it today! Download a free evaluation copy of VShell for Windows, Linux, or Mac.
Talk to us. Let us help define the right VShell server solution for your company.