I Need To…
Synchronize File Systems With Remote Servers
With SecureFX®, keeping files synchronized between your local computer and a remote server requires only a few simple steps. In the Quick Synchronize dialog, select a local folder, the remote server you want to synchronize with, and the method you'd like to use (upload only, download only, or one of several mirror options) to synchronize the files. All it takes is one click of the mouse on the Quick Synchronize toolbar button!
The synchronize database lets you save, edit, and execute synchronize operations, which makes it easier to keep multiple sites synchronized. Set up is faster with the option to use the paths from your active sessions for synchronize operations.
VanDyke Software helps you achieve the right balance between strong security and easy access to the network from anywhere... at any time. Take the next step right now:
Download evaluation copies of VanDyke Software products.
Read our Secure Shell white papers.
Contact us for assistance in designing the right solution for your organization.
---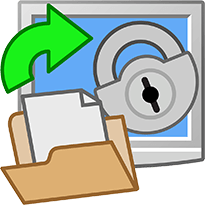 SecureFX
SecureFX is a high-security file transfer client with great flexibility in configuration and transfer protocols. SecureFX includes a command-line utility for scripting batch jobs to perform secure unattended file transfers and also supports "relentless" file transfers that automatically reconnect and resume when connections are broken.