I Need…
Secure Terminal Emulation for my Mac Systems
SecureCRT® for Mac is built to meet the needs of the most demanding network professionals. SecureCRT for Mac offers a major step up from the macOS Terminal, with the ability to save and customize terminal sessions, serial protocol support, access to the macOS local shell, and a high-productivity user interface with plenty of ways to automate tasks. You can have all this with little or no retraining for staff who already are familiar with SecureCRT on Windows.
SecureCRT for Mac provides Telnet, Secure Shell (SSH1 and SSH2), SFTP, and serial support. This support for open standard protocols means SecureCRT can connect to Mac, Linux, UNIX, Windows, and other systems, as well as manage a wide variety of network devices from the latest Cisco router to the dumbest switch. SecureCRT provides support for Secure Shell data tunneling and offers secure file transfers using SFTP, Xmodem, Zmodem, and Ymodem.
The following are some of the core services SecureCRT provides:
VT100, VT102, VT220, ANSI, SCO ANSI, TN3270, Wyse 50/60, Xterm, and Linux console emulations, with support for ANSI color with color schemes
Full terminal emulation support for character attributes including VT line drawing symbols, bold, underline, reverse and blink, and double-width and double-height fonts
Custom configuration for every session is easily organized and accessed from the Session Manager
Xterm extensions to set the title bar and send basic mouse events to the remote host
A tabbed user interface that allows you to run multiple sessions in a single program window
Connect to multiple hosts or have multiple sessions with a single host
Whether you need a Terminal replacement with more powerful session management or advanced capabilities to help raise your productivity to the nth degree, SecureCRT is an application you can live in all day long.
VanDyke Software helps you achieve the right balance between strong security and easy access to the network from anywhere... at any time. Take the next step right now:
Download evaluation copies of VanDyke Software products.
Read our Secure Shell white papers.
Contact us for assistance in designing the right solution for your organization.
---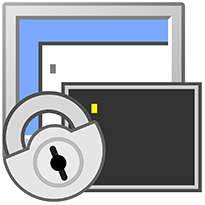 SecureCRT
SecureCRT for Mac is an extremely customizable terminal emulator with support for Secure Shell (SSH1 and SSH2) as well as Telnet and serial protocols. SecureCRT is ideal for connecting to remote systems running Mac, Windows, UNIX, and VMS.